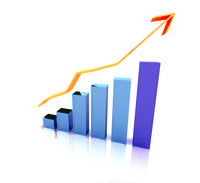 March 2012 totals are in and show some trends that you will want to consider if you have a home for sale or will be buying a home soon.  According to Realtor.com, housing market indicators are looking up.  The national median list price has increased between February and March, displaying a steady, slow rise.  The median list price averaged $189,900 in March of 2012, versus $179,900 in March of 2011.  Market recovery seems to be more dependent on local economy than on housing developments at large.
Actual national home inventory displayed an increase between February 2012 and March 2012, as well, and the average days on the market for a home decreased from 111 days to 89 days in that same month span, which are other positive indicators.  While median list prices vary across national markets, the data collected by Realtor.com indicated a slight upward swing, causing many a home owner to take note.
If you are considering buying a home or selling your current home, these statistics can provide insight into the current real estate market. Combining these statistics with historically low interest rates (3.88% for a conventional 30 year mortgage last week), could help you in determining your decision. To get more details on the study and comparisons to previous months and years and see the actual graphing trends, please click here.
In New Jersey, Homes for Sale that are within a commuting distance of New York City are still selling at record numbers in comparison to the rest of the nation. Although the national real estate market has been very effected by the real estate crash of late 2006,  New Jersey homes have fallen on average 20% . Northern New Jersey real estate has statistics which vary greatly with the rest of the US real estate market.   We are experiencing multiple bids on properties in good condition, within walking distance to town,and in close proximity to public transportation. Montclair and Maplewood are two Northern New Jersey towns which are on the New Jersey Transit line , with a commute time under 40 minutes door to door  and homes are going under contract within 15 days on average. So if you are thinking of buying a home in Northern New Jersey be prepared, study the homes which have sold in the areas you are targeting, understand why one home sold over the list price while another sat on the market for 90 days and never sold. If you are selling, prepare your home, paint it, clean out the clutter, and stage it properly. If  you need any advice from www.findnjhouse.com lets get in touch below.