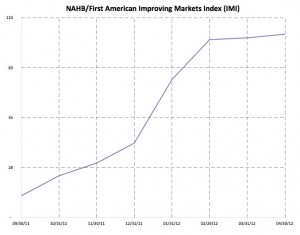 Curious about what the New Jersey real estate market is really like these days?  You are not alone.  In fact, many organizations are examining multiple factors regularly to try to determine the status of the housing market.
According to the National Association of Home Builders/First American Improving Markets Index (IMI) released on Friday, April 5, 2012, 101 areas throughout the United States are showing signs of growth, in thirty-five states. That is great news if you have your home for sale as it means the real estate market is improving throughout the country.  It is reassuring news if you are a home buyer as well, as it may give you a better idea of the stability of the area in which you hope to buy a home. Northern New Jersey Homes for sale lead the real estate market nation wide. On average homes selling within commutable distances to Manhattan, with good school systems are selling well.
It is interesting to note that the NAHB/FA report is based on the following three solid factors remaining steady over a six month period, rather than simply market speculation.
Employment Growth Statistics (Bureau of Labor Statistics)
House Price Appreciation (Freddie Mac)
Single-family Housing Permit increases (U.S. Census Bureau)
According to David Crowe, chief economist at NAHB, "The IMI is designed to highlight markets that are showing consistent improvement."  Seeing that improvement as a great sign, Kurt Pfotenhauer, vice chairman of First American Title Insurance Company agreed stating,"The fact that the number and geographic distribution of improving housing markets continued to expand beyond the 100 mark in April bodes well for the start of the spring home buying season, and should be an encouraging sign for those who are considering a home purchase."
You can view the current report here to see specific markets and their ranking in the IMI in April.
With interest rates below 4%, the housing prices in Northern New Jersey down on average 20% in the last few years. It is a fantastic time to purchase your home and it is getting better if you are looking to sell. If interested in pursuing your real estate goals give us a call and we will send you detailed statistics of what is happening in the Northern New Jersey Real Estate Market.